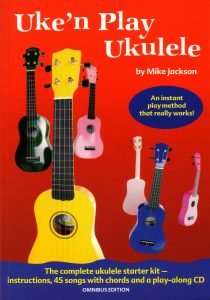 You can play ukulele!
A 'great value' combined edition of Uke'n Play Ukulele and Uke'n Play Easy Ukulele which includes instruction and most of the songs with shortened, sample versions on CD.
Learn to play ukulele online now with Mike's Instant Play Ukulele Method!
Helpful Hints for Beginner Ukulele Players.

Song List
Achy Breaky Heart Angel Band
Banks Of The Ohio
Buffalo Gals
Bye, Bye, Love
Cigarettes and Whiskey
and Wild Wild Women
Doney Gal
Goodnight Irene
Home On The Range
I Walk The Line
Jambalaya
Midnight Special
More Pretty Girls Than One
Morning Blues
Oh, Susanna
Old Dan Tucker
Pay Me My Money
Scarlet Town
Shady Grove
Streets Of Laredo (Cowboy's Lament)
Things Are Coming My Way
Tom Dooley
Wildwood Flower
Will The Circle Be Unbroken
You Ain't Going Nowhere
Polly Wolly Doodle
Cockles And Mussels
Hush Little Baby
Shortnin' Bread
Quartermaster's Store
Hey Ho Little Fishies
Hard Times
Bound for South Australia
Waltzing Matilda
Tiddy Lend Me Your Pigeon
Mairi's Wedding
This Train
My Grandfather's Clock
Drunken Sailor
Michael Row The Boat Ashore
Que Sera Sera
Ukulele Lady
Jamaica Farewell
You Are My Sunshine
Leaning On A Lamp-Post
Listen to Michael Jackson on ABC Radio's Ask the Experts discussing ukuleles, how to buy a good ukulele and some useful hints about ukulele playing.
Find Out The 10 Reasons Why You Should Start Playing The Ukulele