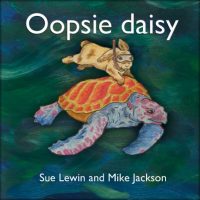 Mike Jackson and early childhood educator, singer and songwriter Sue Lewin collaborate on these two remarkable lively albums, created especially to encourage young children to dance and have fun.
The albums are available separately or as a money-saving combo package.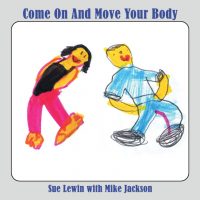 Come On and Move Your Body comprises 19 songs for actions and dance.
The second collaborative album, Oopsie Daisy, contains 17 traditional and original songs which will have children laughing and tapping their feet.

Come On and Move Your Body Track List
Come on and Move Your Body 2:24
The Ballad of Eensy Weensy 2:04
Gilly Gilly Ossenfeffer 3:01
The Toy Box Bop 1:48
The Little Grey Ponies 3:04
Coming Home 2:03
Oh We are Two Sailors 1:44
Two Buffaloes 2:35
Get Ready (for the Great Outdoors) 2:12
Poor Little Bug on the Wall
Little Fly Upon the Wall 1:37
Jack Robinson's Hornpipe 0:50
Buckingham Palace 2:28
Waddley Archa 2:03
The Rainbow Colours of Life 3:19
And We All go Travelling By 4:00
There was a Princess Long Ago3:18
There was a Princess Long Ago (Backing Track) 3:18
Gilly Gilly Ossenfeffer (Backing Track) 3:00
Oopsie Daisy Track List
Laugh it off, Oopsie Daisy 2:44
The Big Adventure 3:25
Never smile at a Crocodile 1:42
Looking Forward to Tomorrow 2:26
Galapagos Tortoise 3:23
Rabbits 2:12
Hey Betty Martin 3:21
When I dream I can float 2:38
Ploughing through the waves 1:17
Five Turtle Eggs 1:48
The barefoot boy 2:20
Rain 1:54
Grandad's Old Car 2:45
The waves upon the ocean 2:45
Five In The Bed 2:00
Rock Pools 4:31