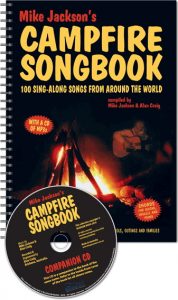 The Campfire Songbook is a wonderful collection of everyone's favourite campfire songs! Whether you're young or old, there is something for you in this unique collection of songs. All the songs in the Campfire Songbook have been collected by Mike Jackson and Alan Craig over many years, and every song is a proven favourite. The Songbook is convenient B5 size with wire-spiral binding songbook and includes lyrics, melody and easy-to-play chords for guitar and ukulele
So, if you're sitting by the campfire at night, or leaning against the old piano, or just sitting with friends around the barbeque, you'll find dozens of lusty sing-along songs in our Campfire Songbook to keep you and your friends entertained for hours!
New Revised Edition
The Campfire Songbook comes with a data CD that contains a simple backing of each tune in both MIDI and AAC (advanced MP3*) formats. MIDI files can be played on your computer or laptop using any MIDI player (most computers come with one installed, but there are good low-cost and free ones available on the Internet). This format allows you to vary the tempo, change the key, or even alter the instruments.
The AAC files can be installed in your iTunes or Windows Media Player centre and downloaded to your iPod or other MP3-style players. We are currently working on a Campfire Songbook 'app' for the iPod, iPhone or iPad: so you'll be able to take your songs with you everywhere you go!
The Campfire Songbook is ideal for schools, campers, hikers, youth and church groups as well as family sing-alongs. In this convenient B5 size spiral bound book you will find 100 tunes from around the world – folk songs, blues ballads, country songs, jazz songs, fun songs, spirituals and kids' songs – all with music and arranged with easy-to-play guitar chords!

Here are the songs you'll find in the Campfire Songbook:
1. A-Roving
2. After the Ball
3. Along the Road to Gundagai
4. Alouette5. Amazing Grace
6. Ancient Britons
7. Apples and Bananas
8. Ash Grove
9. Auld Land Syne
10. (An) Austrian Went Yodelling
11. Be Kind to Your
Web-Footed Friends
12. Bill Bailey
13. Billy of Tea
14. Blow the Man Down
15. Botany Bay
16. Bound for South Australia
17. Bring Back My Neighbours to Me
18. Camptown Races
19. Clementine
20. Click Go the Shears
21. Cockles and Mussels
22. Daisy Bell
23. Danny Boy
24. Dixie
25. Do Your Ears Hang Low?
26. Down by the Riverside
27. Drunken Sailor
28. For He's a Jolly Good Fellow
29. Ging Gang Goolie
30. Give Me a Home … Gum Trees
31. Go Tell It on the Mountain
32. Greensleeves
33. Guantanamera
34. Happy Wanderer
35. Hava Nagila
36. He's Got the Whole World …
37. Home on the Range
38. House of the Rising Sun
39. I Was Only, Only Fooling
40. In an English Country Garden
41. I've Been Working on the Railroad
42. Jamaica Farewell
43. Joshua Fought the
Battle of Jericho
44. Kumbaya
45. Leaving of Liverpool
46. Little Brown Jug
47. Little English Sparrow
48. Loch Lomond
49. Lord of the Dance
50. Maggie
51. Mairi's Wedding
52. Maori Farewell
53. Mary Ann
54. Michael Finnigan
55. Michael, Row the Boat Ashore
56. Morning Has Broken
57. My Girl's a Corker
58. Oh, Dear! What Can the Matter Be?
59. Oh, Susanna
60. Old MacDonald Had a Farm
61. On Ilkla Moor Baht 'At
62. On Top of Old Smokey/Spaghetti
63. One Man Went to Mow
64. One More River
65. Pokarekare Ana
66. Quartermaster's Store
67. Rattling Bog
68. Rock My Soul
69. Row, Row, Row Your Boat
70. Scarborough Fair
71. Shalom Chaverim
72. She'll Be Coming Round …
73. Shenandoah
74. Show Me the Way to Go Home
75. Skip to My Lou'
76. Skye Boat Song
77. Streets of Laredo
78. Swanee River
79. Sweet Violets
80. Swing Low, Sweet Chariot
81. Tell Me Ma'
82. Ten Green Bottles
83. There Is a Tavern in the Town
84. There's a Hole in My Bucket
85. This Old Man
86. This Train Is Bound for Glory
87. Three Craws
88. Tie Me Kangaroo Down
89. Tom Dooley
90. Waltzing Matilda
91. We Shall Not Be Moved
92. When Johnny Comes Marching
93. When the Saints Go Marching In
94. Whistling Gypsy
95. Wild Mountain Thyme
96. Wild Rover
97. Worried Man Blues
98. Yankee Doodle
99. Yellow Rose of Texas
100. You Are My Sunshine
Listen to Some Samples

* AAC stands for Advanced Audio Coding, and is the successor to the MP3 format – it comes with a .m4a extension. This audio format is generally of a higher quality than the MP3 standard, and has smaller file sizes. The following are some of the devices that support AAC: All Apple products (iPod, iPad, iPhone, Mac computers), DivX Plus Web Player, Sony PlayStation 3/Portable, Sony Walkman, Sony Ericsson phones, Nokia S40 & S60, Android phones, Nintendo Wii and the MPEG-4 video standard.
Bluegum Music partners: Rantan Bush Band and Mike Jackson · Editing by Karl Craig