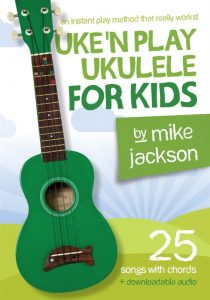 Instant play with colour chord system!
You can play ukulele, kids!
A music program for the young child (5-10yrs) at home or at school!
Based on his best-selling "Uke 'n Play Ukulele", Mike Jackson has now designed a program for young children to learn to play the ukulele – with just a little help from an older person.
With only 3 simple chords to master, 25 fun songs can be played in no time at all! The downloadable audio tracks help give the child confidence – while they learn the song, feel the beat and refine their playing technique.
Uke 'n Play Ukulele for Kids can be found in most Australian music stores (published Music Sales) and is distributed in the United States/Canada by Mel Bay Publications and in the United Kingdom by Music Sales. Orders can also be taken on this website.
Learn to play ukulele online now with Mike's Instant Play Ukulele Method!
Helpful Hints for Beginner Ukulele Players.

Song List
Jingle Bells
Frog Went A Courtin'
The Lion Sleeps Tonight (Wimoweh)
On My Ukulele
One Man Went To Mow
This Old Man
Alice
The Camel
The Bear Went Over The Mountain
Horse Named Bill
Ging Gang Goolie
Bring Back My Neighbours To Me
Dinky Di
Five Little Monkeys
Kookaburra Sits In The Old Gum Tree
Frere Jacques/R2D2/Young Bart Simpson
Row Row Row Your Boat
Baby Bumble Bee
The Doggie Stole A Sausage
Found a Peanut
Did You Ever See A Lassie
Black Socks and Blue Jeans
A Nosey Song
Tennessee Wigwalk
Hot Cross Bunny
I'm A Nut
Listen to Michael Jackson on ABC Radio's Ask the Experts discussing ukuleles, how to buy a good ukulele and some useful hints about ukulele playing.
Find Out The 10 Reasons Why You Should Start Playing The Ukulele