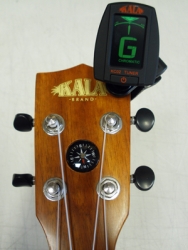 An accurate, quick and easy to use chromatic* tuner
Works on ukulele, guitar and many other instruments
Still works in a noisy environment
Swivels to the angle that is easiest for you to read
The easy to read backlit screen tells what note you are playing and whether it's in tune
No wires and no microphones
Choose between chromatic, ukulele C, and ukulele D modes
Mike passes this tuner around at workshops and even absolute beginners tune their instruments perfectly first time – despite the noise going on around them. He describes it as the best tuner he has ever used – by a country mile!
chromatic* means you can tune any note (including sharps and flats) so it's easy to experiment with other ukulele tunings or use on other instruments.