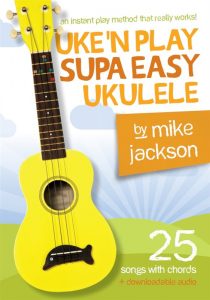 Instant play with colour chord system!
You can play ukulele!
A collection of well-known songs using just 2 chords per song. This is a book for the beginner (any age) or for those who play a little and need some extra easy songs to practise what they know. Basic instruction is given and relevance of the ukulele to the guitar is included. The downloadable audio tracks are recordings of all the songs – with lead vocals, ukulele and full band accompaniment.
Learn to play ukulele online now with Mike's Instant Play Ukulele Method!
Helpful Hints for Beginner Ukulele Players.

Song List
Three Blind Mice
Life Is But A Melancholy Flower
Miss Mary Mac
Iko Iko (Jack-A-Mo)
He's Got The Whole World In His Hands
Oh, Dear! What Can The Matter Be?
The Farmer's In The Dell
It Ain't Gonna Rain No More
London Bridge Is Falling Down
Li'l Liza Jane
Down In The Valley
Blow The Man Down
Go Tell Aunt Rhody
Michael Finnigan
Clementine
Down By The Billabong (Station)
Skip To My Lou, My Darling
Hail! Hail! The Gang's All Here
Sur Le Pont D'Avignon
The Ballad of Eensy Weensy
Rock My Soul
Mary Had a Little Lamb
Alouette
Michael Row The Boat Ashore
I's The B'y That Builds The Boat
Joshua Fought The Battle Of Jericho
Listen to Michael Jackson on ABC Radio's Ask the Experts discussing ukuleles, how to buy a good ukulele and some useful hints about ukulele playing.
Find Out The 10 Reasons Why You Should Start Playing The Ukulele