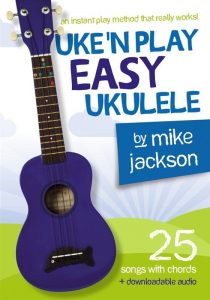 Instant play with colour chord system!
Based on best-sellers Uke 'n Play Ukulele and Uke 'n Play Ukulele for Kids, Mike Jackson has now put together a new collection of well known singable songs – country style – for beginner ukulele.
With only 3-5 simple chords to master, you'll be playing all of these easy 25 classics in no time!
Basic instruction/chords/tuning is included in the book so no prior musical knowledge is needed. The downloadable audio tracks (with tuning track) teach the song, keep the beat and give confidence as playing technique is refined.
Learn to play ukulele online now with Mike's Instant Play Ukulele Method!
Helpful Hints for Beginner Ukulele Players.

Song List
Achy Breaky Heart
Pay Me My Money Down
Jambalaya
Buffalo Gals
Tom Dooley
Old Dan Tucker
Midnight Special
Oh, Susannah
Goodnight Irene
I Walk The Line
Banks Of The Ohio
Cigarettes and Whiskey
and Wild, Wild Women
Wildwood Flower
Home On The Range
Angel Band
Things Are Coming My Way
Bye, Bye, Love
Streets of Loredo
More Pretty Girls Than One
Doney Gal
Morning Blues
Scarlet Town
Will The Circle Be Unbroken
Shady Grove
You Ain't Going Nowhere
Find Out The 10 Reasons Why You Should Start Playing The Ukulele